"If you love, you will always find time, without even having a single moment". Although the words of Jan Twardowski should always be true, almost every modern relationship struggles to find time to celebrate together. Valentine's Day is a great opportunity to catch up on 'overdue dates' and give your other half a symbolic gift. Our article answers the question "What can you buy for Valentine's Day". We will focus on technological gifts that offer a practical alternative to flowers and chocolates.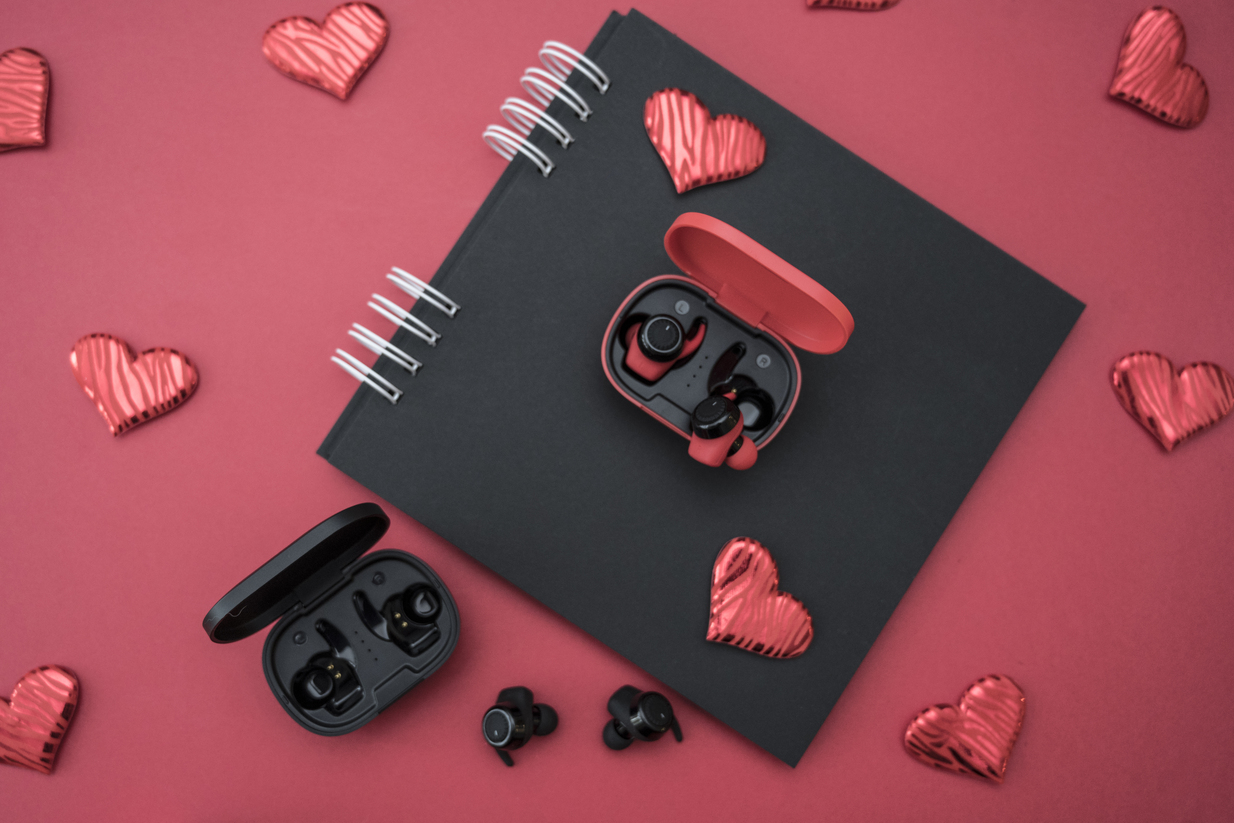 An idea for Valentine's Day for him – useful Forever 4Sport wireless headphone
Wireless headphones are a 'must have' for every man. The devices aid concentration in noisy places and promote relaxation at home. It's hard to imagine a successful journey without podcasts or your favourite playlists. The equipment is also essential for reporting or videoconferencing. Wireless earphones are a very practical idea for Valentine's Day for your husband or boyfriend. You can find many models on the market, varying not only in price but also in design and performance.
We recommend Forever 4Sport TWE-300. These are lightweight and wireless earphones for people who are active and value freedom. The earphones have been designed with runners in mind, but will also work well in everyday situations. They have a lightweight, minimalist design that fits perfectly to the shape of the ear. They provide comfort and do not fall out even during running or long, exhausting workouts. The earphones can also be used for long periods of work in front of a computer. A charging case is included to further extend battery life.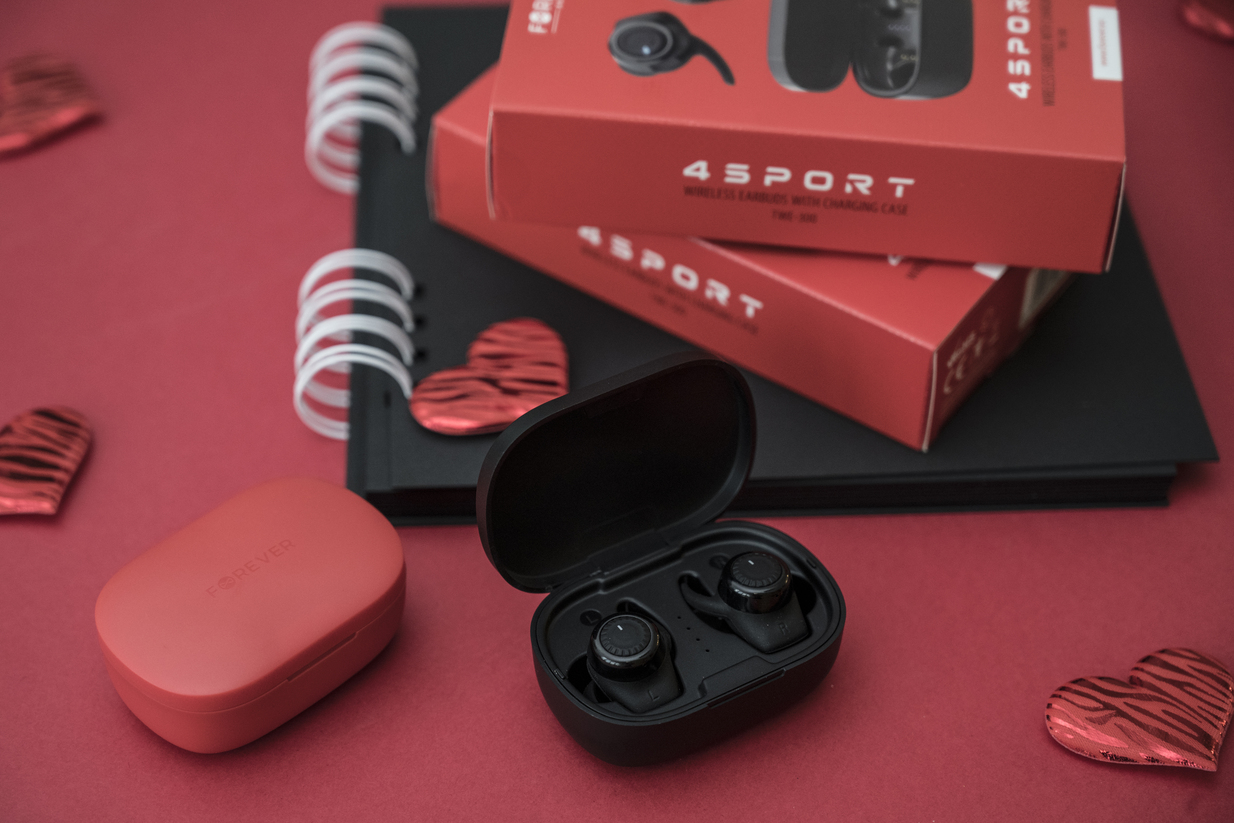 The Forever 4Sport TWE-300 earphones also use a special True Wireless Stereo technology. With it, your other half will enjoy high quality music without a tangled cable. A built-in microphone allows you to answer and reject phone calls. It can also be used for video conferencing.
Forever 4Sport BSH-400 wireless earphones are also a good idea for Valentine's Day. They have similar specs to 4Sport TWE-300 and connect to your smartphone via Bluetooth, but come with a cable with a remote and microphone. The cable connects the two headphones, so you can hang them around your neck if needed. The practical 4-button remote makes it easy to control music playback and phone calls.
Want to know more? Read our article Choosing the right in ear earbuds
An idea for Valentine's Day for her – the stylish ForeVive2 smartwatch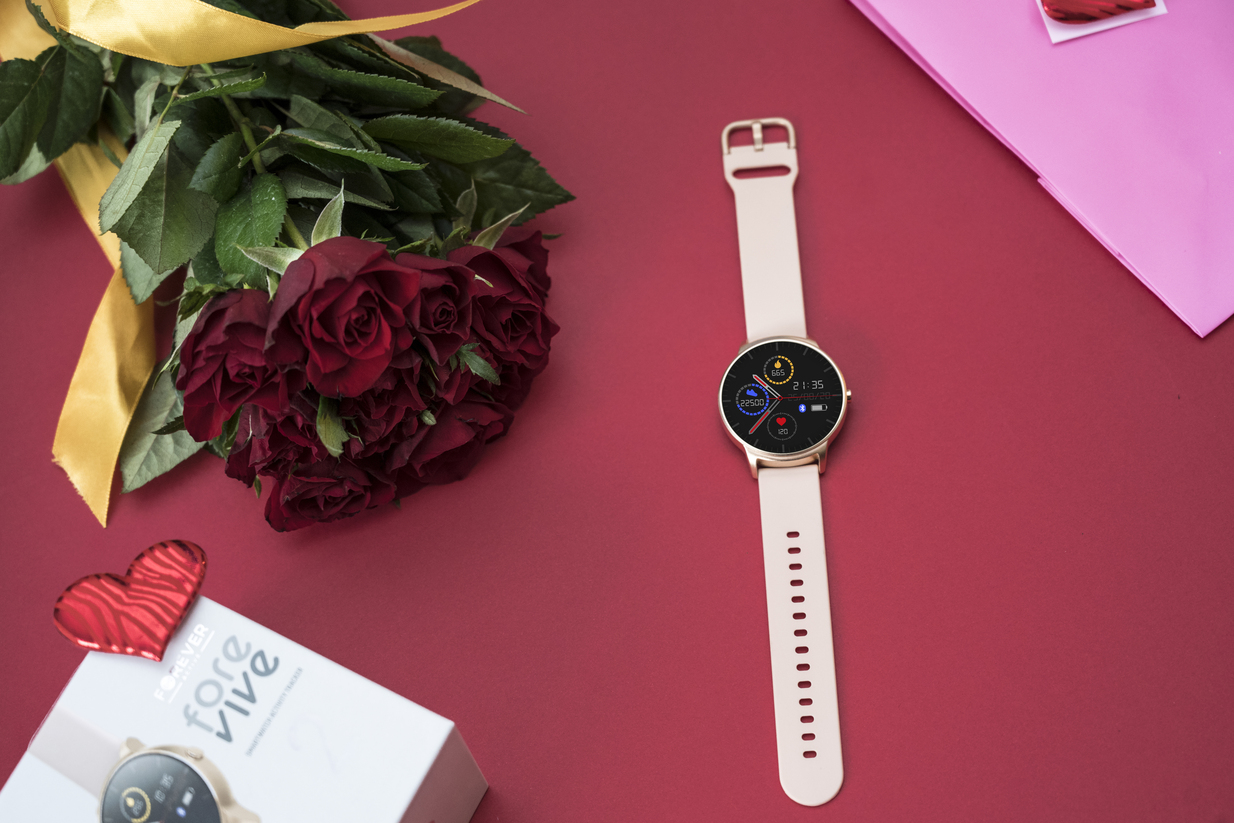 A combination of good, minimalist style, modern technology and a relatively low price. The ForeVive2 smartwatch is a great gift idea for Valentine's Day for both girlfriends and wives. The watch is an upgraded version of Forever's most popular smartwatch. It has been designed in line with trends for 2022. The Forever Smart app is sure to get your special someone with a faster heartbeat. She will find a wide selection of feminine and minimalist designs that will perfectly suit every taste.
The watch comes with two replaceable straps. The metal mesh bracelet will add elegance to all formal and classic styles. The silicone strap, which is pleasant to the touch and gentle on the skin, is ideal for training and hiking. You can also check the rectangular , ForeVigo2 model.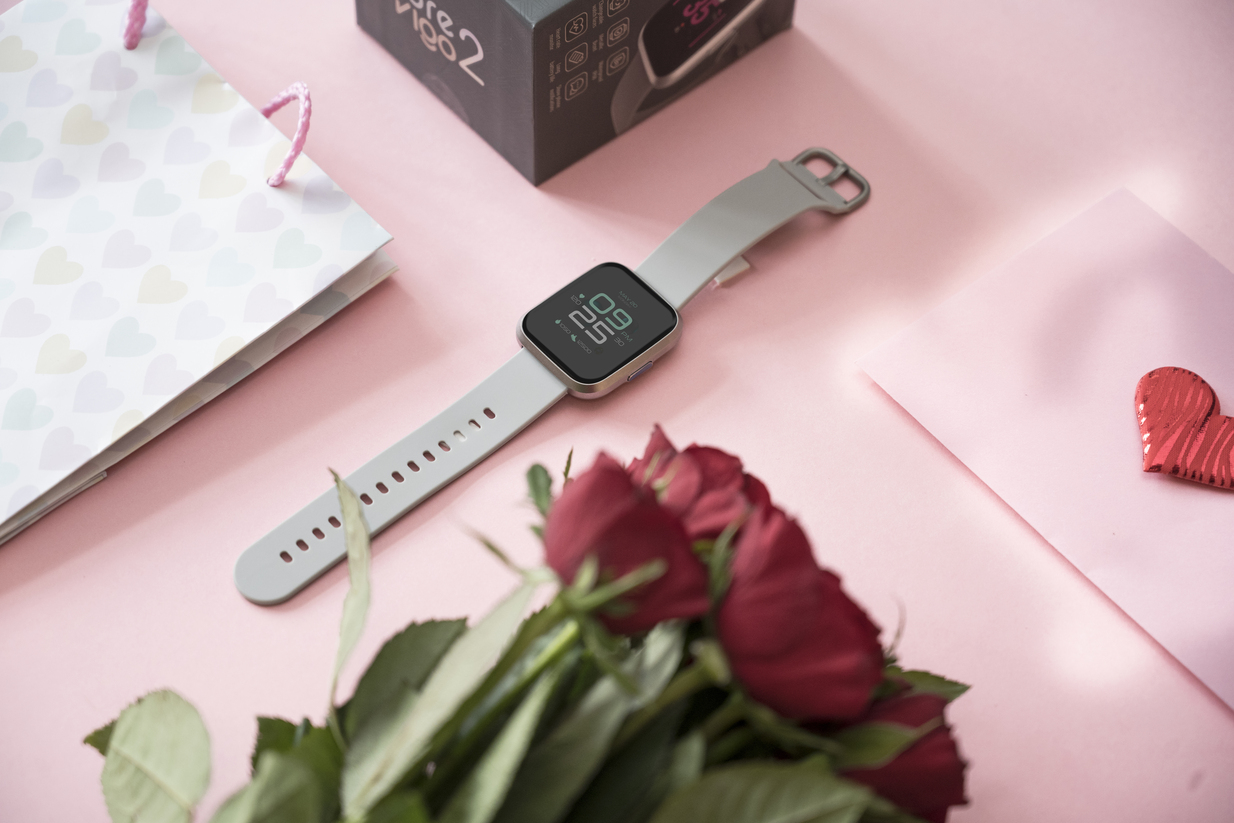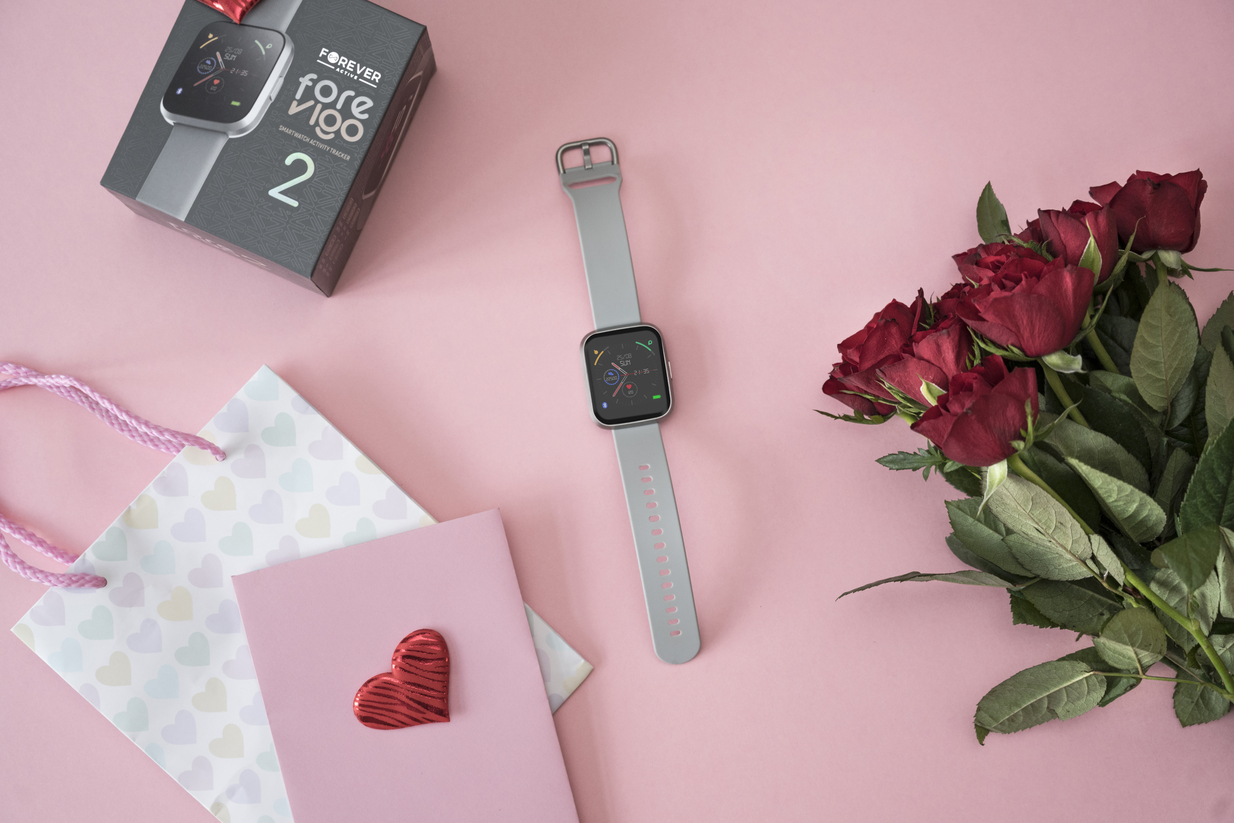 Ladies who lead a healthy lifestyle will also appreciate the other functions of the smartwatch, namely:
– Precise sensor that counts the number of steps you have taken. It also recognises the user's excessive gesticulation.
– Travelled distance and burned calories measurement. A heart rate monitor can also be useful during training.
– Sleep analysis. The watch allows you to set daily goals, such as number of hours slept or calories burned.
The ForeVive2 SB-330 smartwatch also has a high IP68 rating, guaranteeing dust and water resistance. Your loved one can take it not only to work, but also to the pool, beach or shower.
READ MORE: Forever ForeVive2-still round with even more style
What can you buy for Valentine's Day for two? Forever designer speakers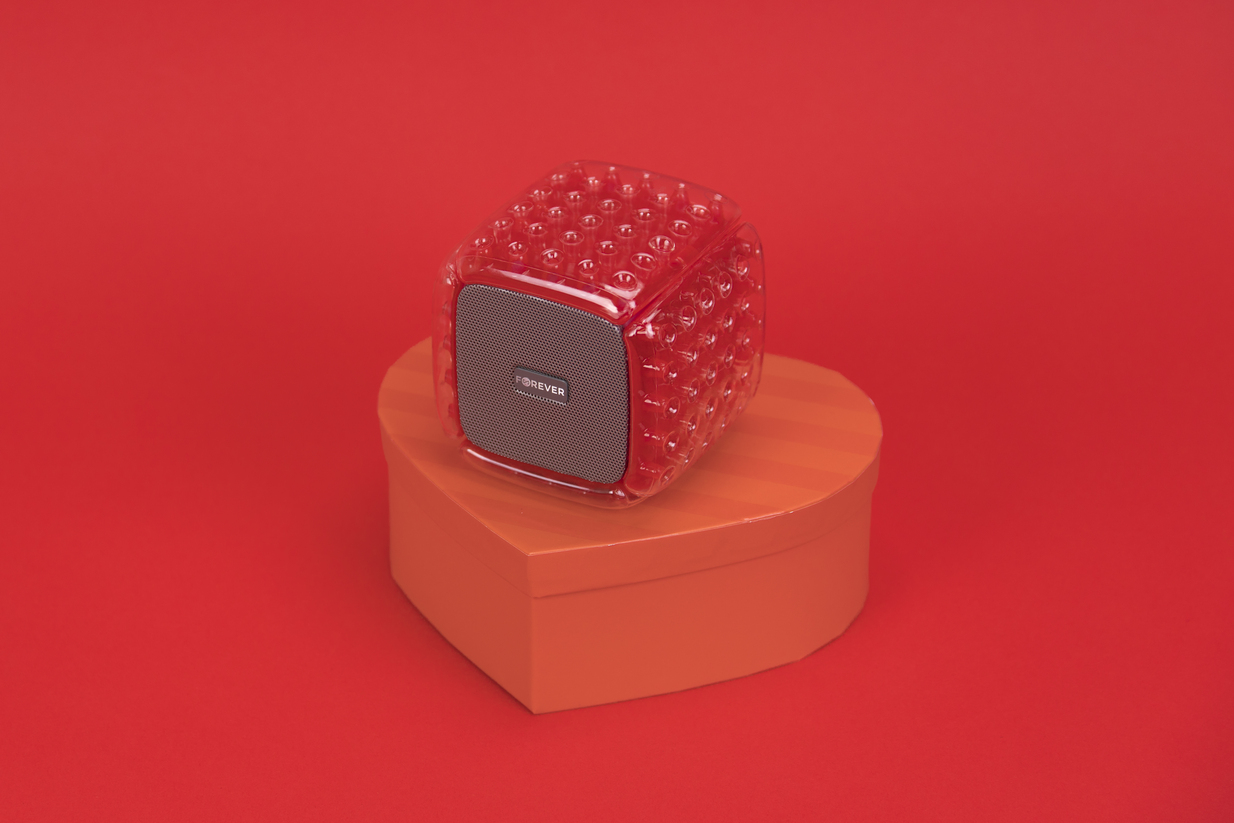 If you are a fan of romantic getaways and outdoor dinners then ForeverBumpAir will be perfect for your relationship. The speaker is distinguished by its stylish design, modern and unusual. It has a compact size, a range of up to 10m and is very lightweight. A powerful 1200 mAh battery will last for up to 5 hours of gaming. This way, you will be able to take it with you almost anywhere. The device can even withstand light rainfall during outdoor gatherings. It is splash- and shock-resistant, so it will serve you for many years. You can find it online for around PLN 80.
If you like to get together in a larger group then consider buying a slightly more expensive and more powerful speaker. It will come in handy for house parties and barbecues with friends. The photos show the Toob 30 speaker. A durable cord has been attached to the device, allowing it to be fixed to a rucksack or bicycle. The speaker is powerful, so it can be heard even from long distances. Toob 30 also likes to work in pairs. If you buy a second device you will get a whole set with a total power of 60W!
READ MORE: Choosing the right wireless speaker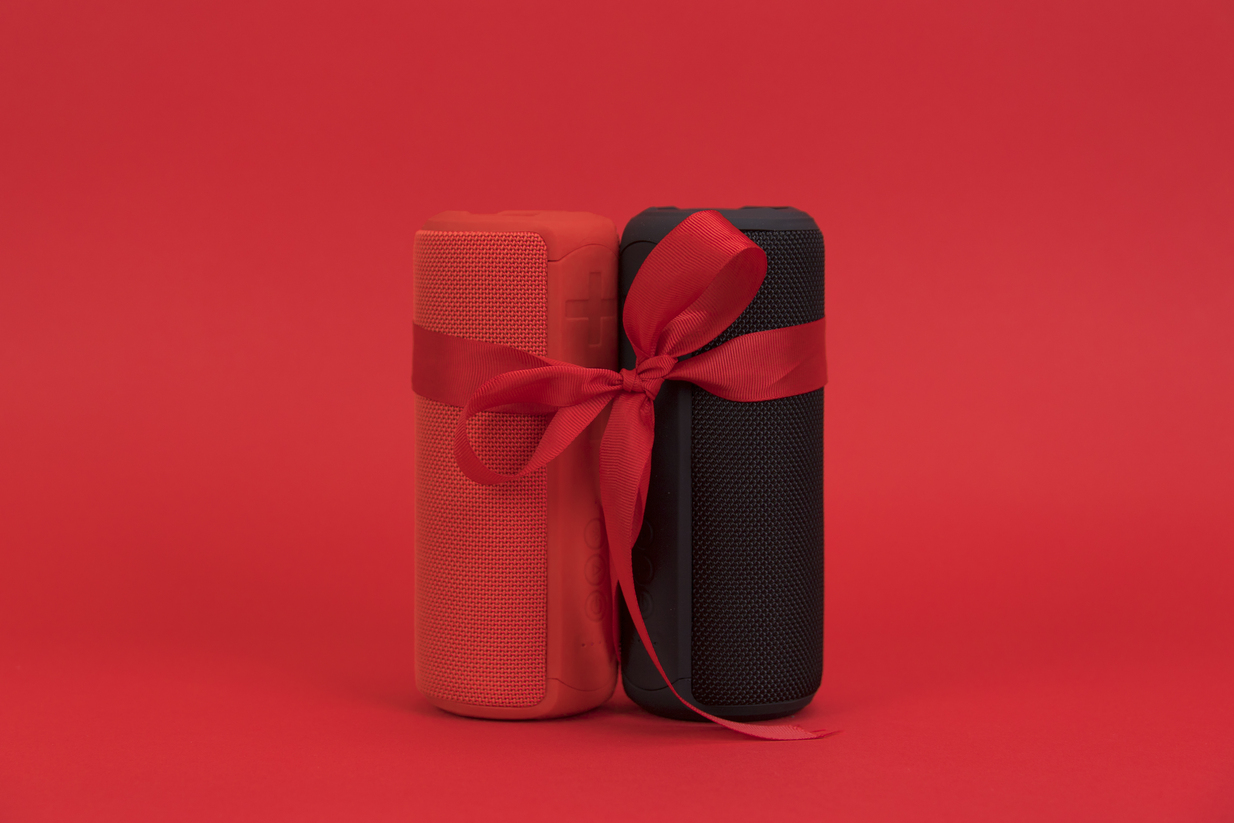 What can you buy for Valentine's Day? Summary
Valentine's Day gifts don't have to be boring at all. Instead of a bouquet of roses, you can opt for practical devices that will serve you all year round. Stylish speakers will set the romantic mood during evening dinners, smartwatches will help establish good habits, and wireless headphones will make journeys together more enjoyable. Let Valentine's Day last all year long!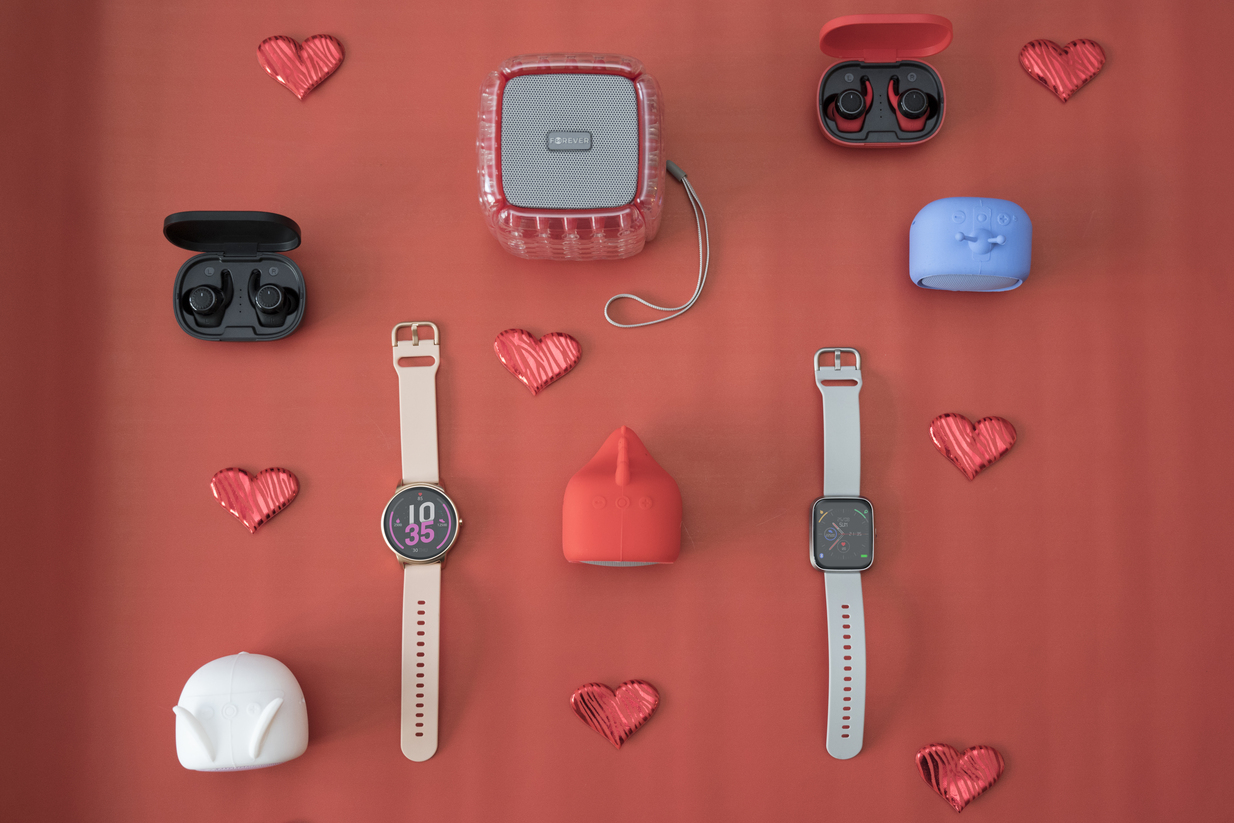 All products mentioned in the article are available at selected online consumer electronics stores and at the official Allegro shop of Forever.
TelForceOne, owner of the Forever brand, is a part of the Polish TelForceOne S.A. Capital Group and one of the largest manufacturers and distributors of consumer electronics in Poland, as well as Central and Eastern Europe. The company's portfolio includes modern mobile solutions, consumer electronics and mobile phone accessories.
www.telforceone.pl