If you've ever worked out with ill-fitting earbuds, you'll know how annoying it can be when they keep falling out of your ear or the cable gets tangled. Fortunately, there's a solution. Check out how to choose earbuds that will meet your expectations and be useful in everyday life – not only while being active.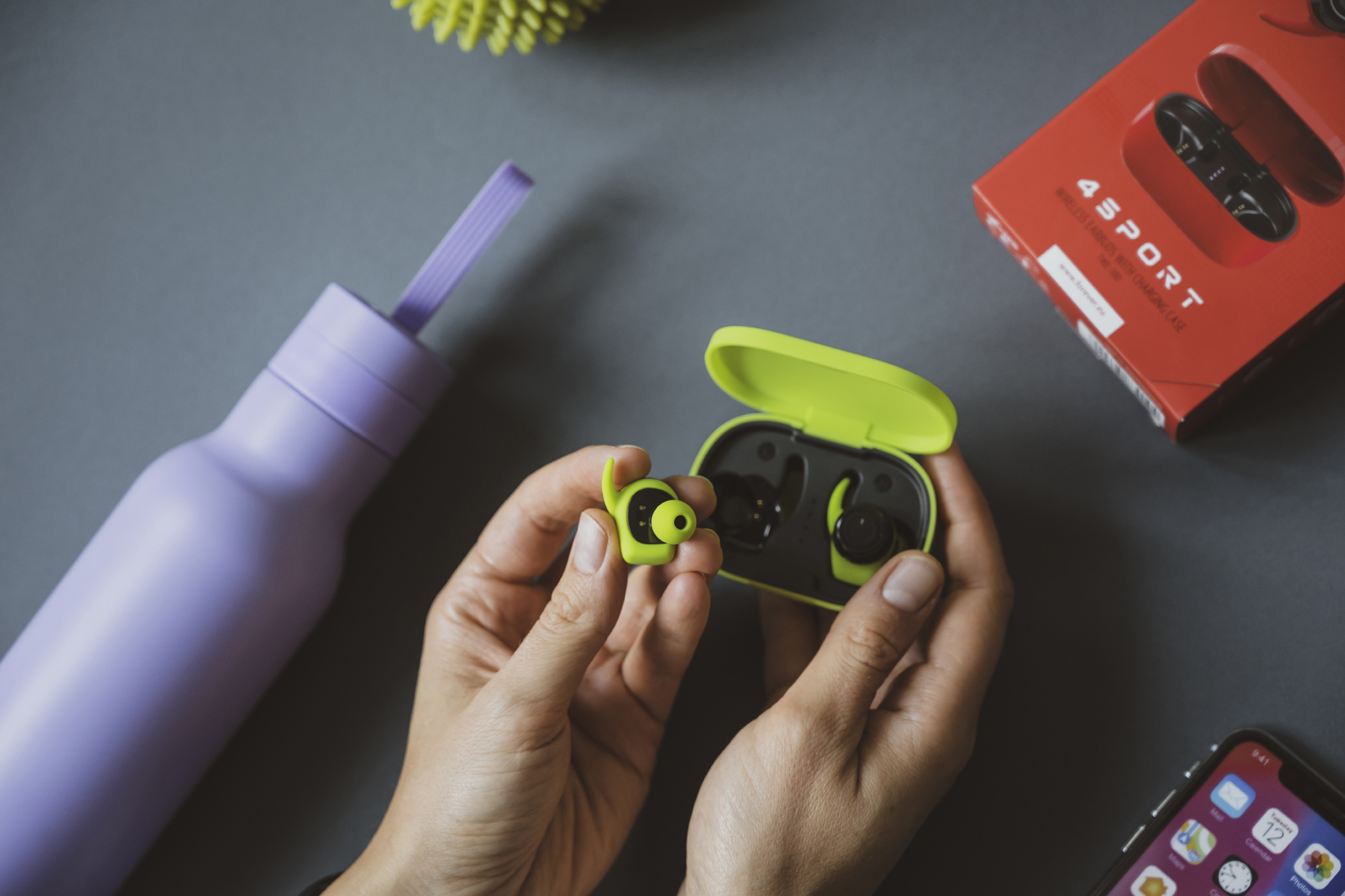 What makes sports earbuds different for regular ones?
In spite of what it feels like, there are many different types of headphones for various use cases. In what may seem obvious, sports headphones are designed for sports and other physical activities.
If you've ever went out on a run with earbuds, you'll know how annoying it can be when they keep falling out of your ear or the cable gets tangled. Sports headphones are supposed to prevent exactly that thanks to their special design, which makes them resistant to water and moisture.
However, good quality earbuds can be useful for much, much more than just working out at the gym or running. So how do you choose the right ones? What features to look for? Here are some pro tips!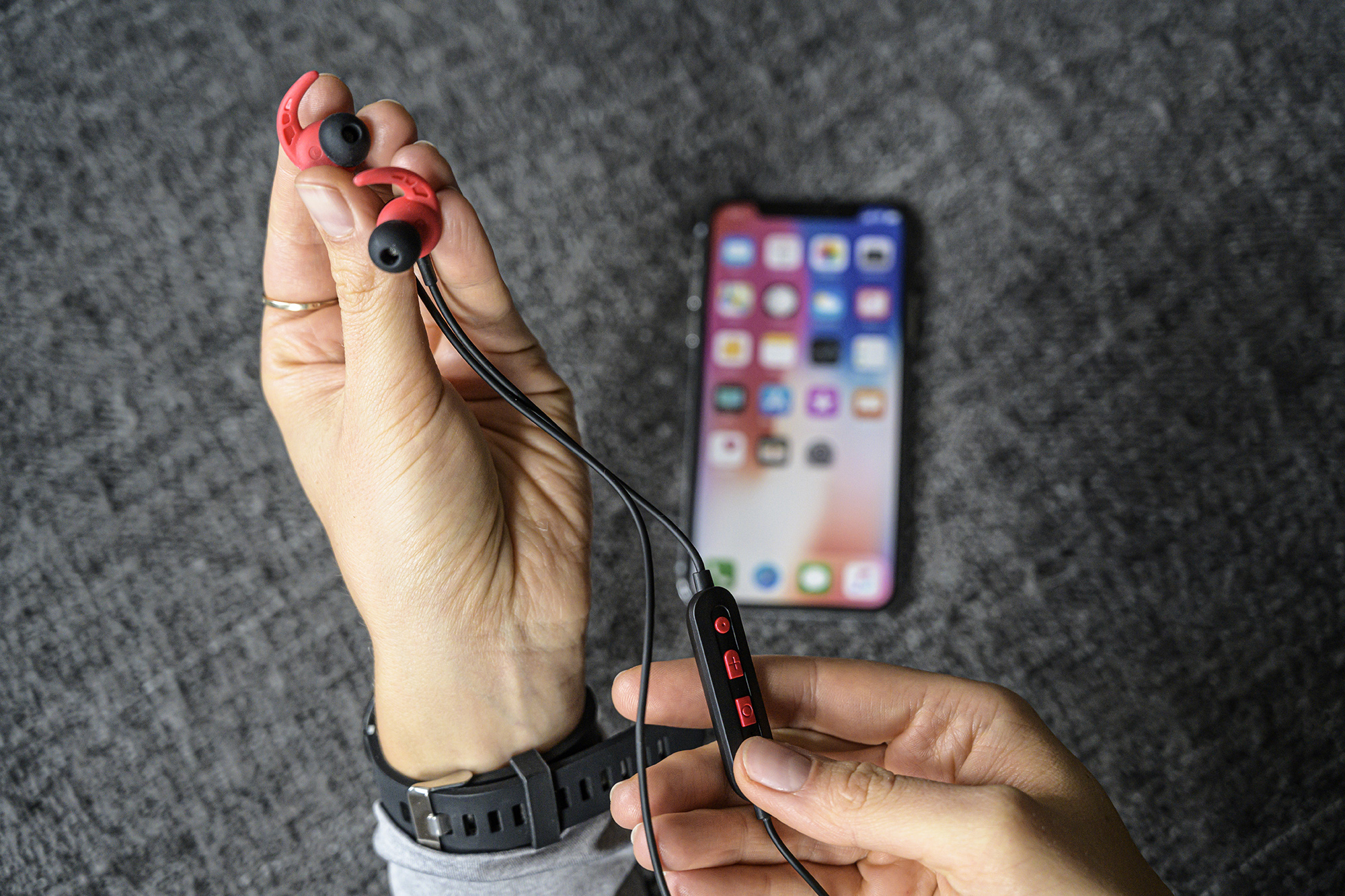 When running, walking the dog or working out at the gym, everybody wants to feel free, and good headphones should not limit your freedom. That's why people usually choose in-ear and earbuds – they are small, lightweight, and don't fall out of your ears – and if they do, you can always replace the tip with a better-fitting one, if they come with one.
Speaking of freedom, if you're an avid runner or a gym rat, wireless headphones are the way to go. The market is rife with wired variants, which have their advantages – they're cheaper, you don't have to charge them, and the audio transmission over a physical cable is more reliable than Bluetooth. On the other hand, the cable can restrict your movements and get tangled.
In other words, if you go wired, make sure to check the cable length. If the cable is too long, it can get in the way of your exercises, for example.
Alternatively, you can choose wireless earbuds with a cable – they are linked to your smartphone via Bluetooth, but they have a short cable that connect the two buds that rests on the back of your neck, behind your head. Another variant of such earbuds are neckband headphones with a profiled band that goes around your head, offering additional stability and keeping the headphones in your ears while you are active.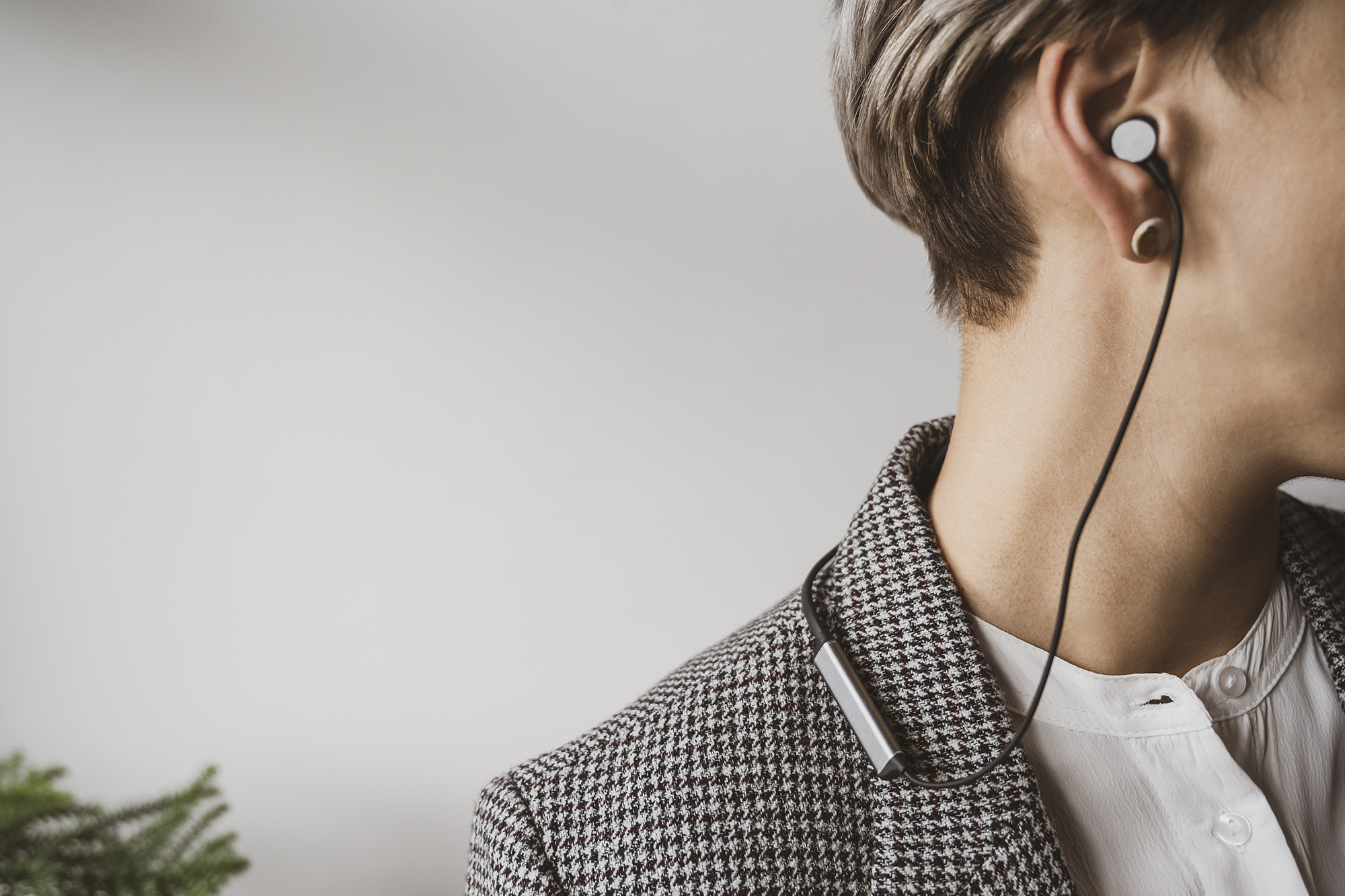 Where there's sport, there's sweat. It gets everywhere, including your headphones. Good headphones, especially sports earbuds, should be waterproof or at least water- and sweat-resistant. If you want to know, it might be a good idea to check what IPX rating of the product in question. Don't overlook it – it may come in handy during something as mundane as a walk in the park.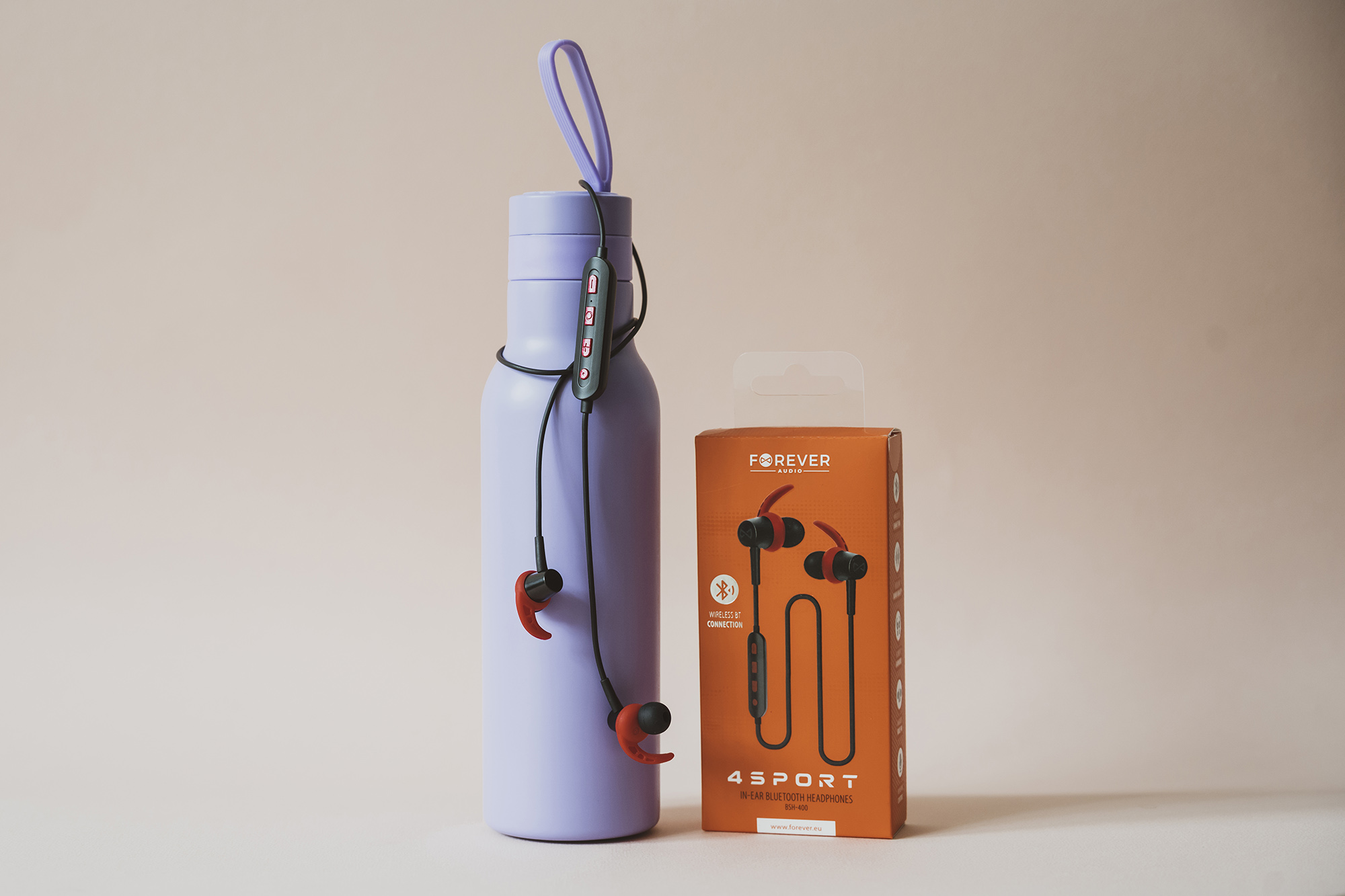 These days, we're hard pressed for time – and we're not just talking about runners chasing their next personal best time. A built-in microphone will enable you to turn your sports earbuds into a hands-free set, so you can talk while on the move.
In the case of wireless in-ear headphones, you need to keep their battery life in mind. You want at least 4 hours – that should be enough for a workout or a longer walk.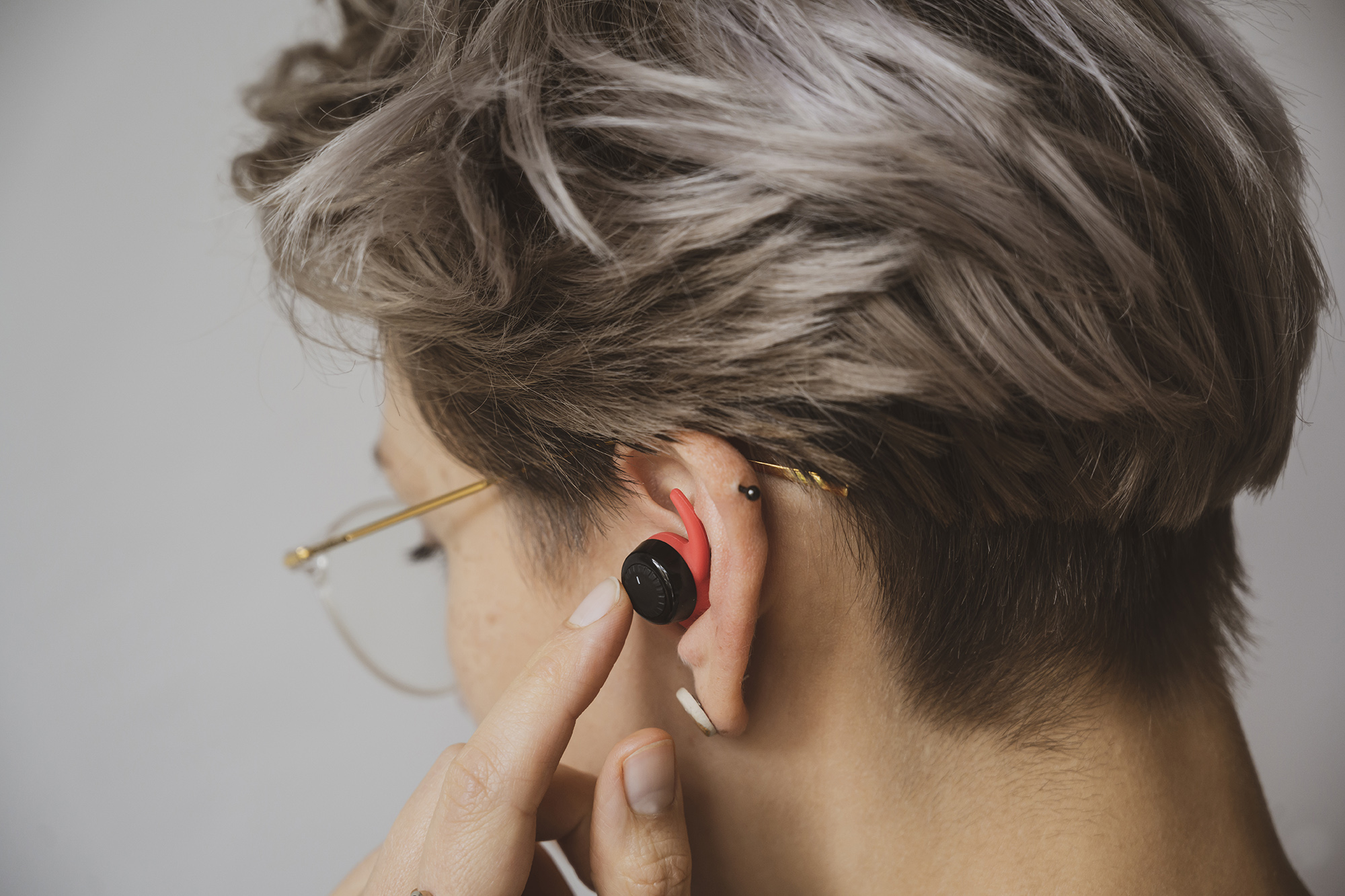 This should go without saying – sound quality is the key aspect of all headphones. Thankfully, features that make sports earbuds rugged don't mean compromises in terms of sound quality.
When you're making your choice, look for APT-X in the specifications – it's a codec that ensures high-quality sound transmitted wirelessly via Bluetooth, offering you CD-like sound quality without having to transfer a lot of data.
What sound quality parameters are worth noting?
Impedance [Ω], or the resistance encountered by the electric current flowing through the headphones. Lower impedance means more energy efficiency, but also more susceptibility to noise. Good sports earbuds should be in the 15- 80 Ohm range.
Dynamic Range [dB], or volume. The higher the dynamic range, the louder the headphones will be. Typically, you will find earbuds with a dynamic range of 70 to 140 dB.
Frequency response tells you the range of sounds the headphones are capable of producing. The human ear can hear sounds in the range of 16 Hz – 20 kHz.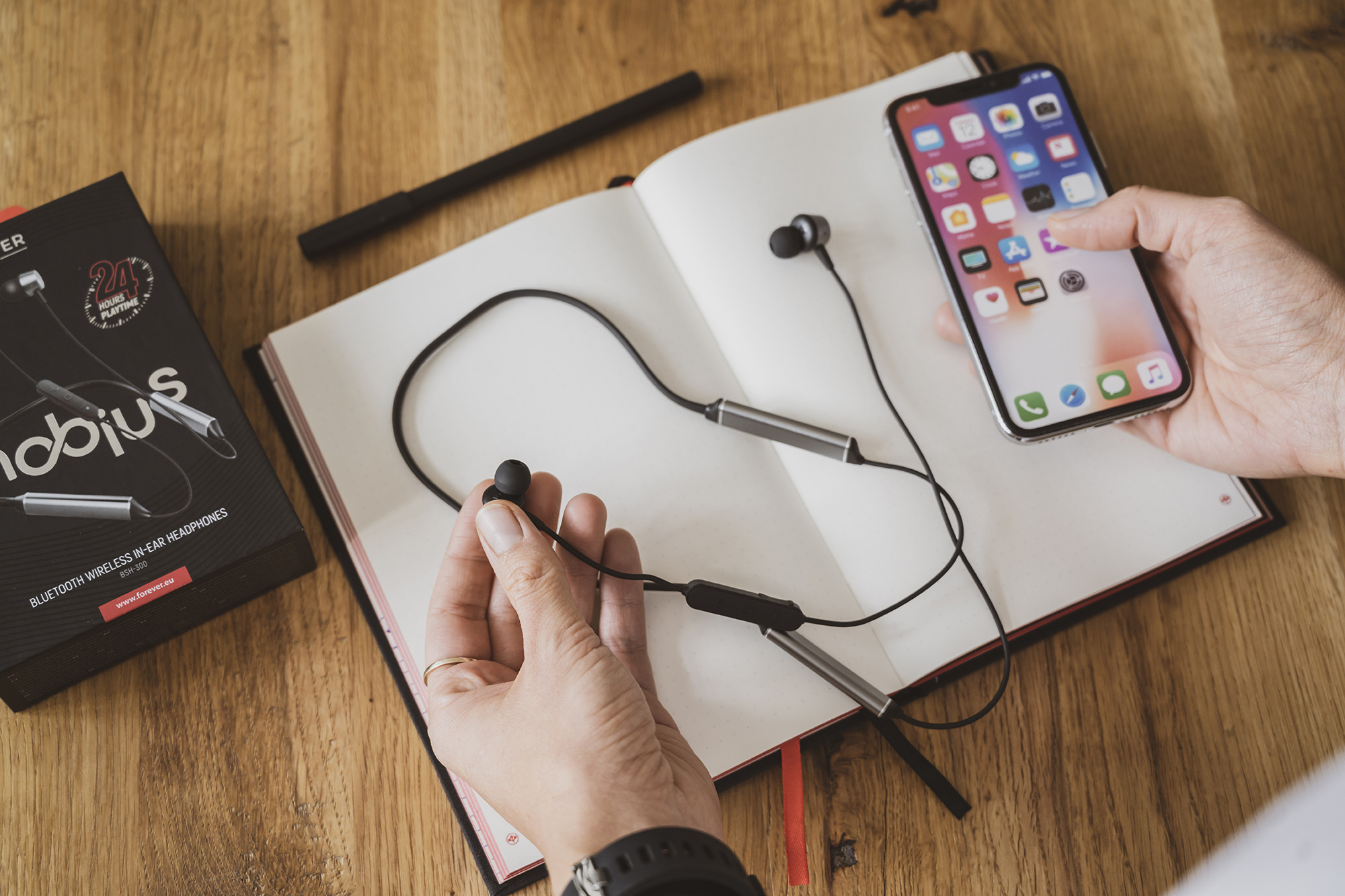 Which earbuds should I get?
We have compiled a list of recommendations for you – all of the following products are worth your while. Which sports earbuds should you get for running or the gym? Which will work better for everyday use?
Basic sports headphones: Forever 4Sport SP-100
Let's start from the basics – Forever 4Sport BSH-400 are classic sports earbuds with a cable, and as such they are a perfect solution for people who are just starting to exercise, as well as fans of well-proven, tried and tested solutions. Robust and inexpensive, they have a cable with the most popular 3.5 mm jack plug. With Forever 4Sport headphones, you can enjoy clear and crisp sound while skating, running or working out at the gym – all without worrying about comfort and convenience.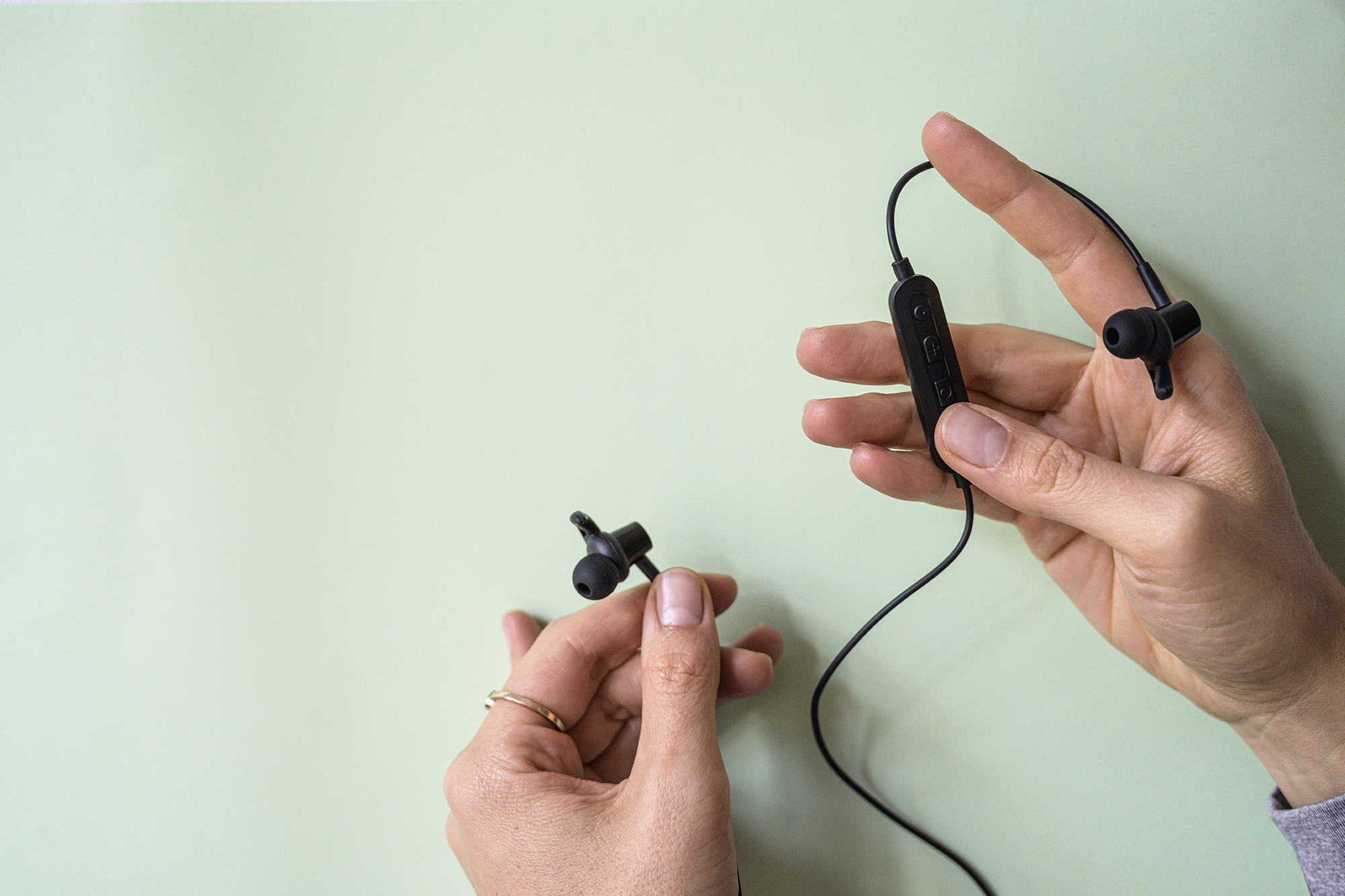 Universal wireless headphones: Forever Mobius24 BSH-300
Forever Mobius24 BSH-300 wireless earbuds make for a perfect choice for people who are often on the move, and who appreciate the freedom, good sound quality and long battery life.
Forever Mobius24 BSH-300 is an example of neckband headphones described above – they are equipped with a special profiled headband wrapping around the back of user's head, ensuring stability during activity. They are very lightweight and comfortable – you can forget that you are wearing them. They have interchangeable tips in different sizes, so you can fit them to your ears. The built-in microphone allows you to answer and reject phone calls – and do so for 22 hours, you can also redial the last number you called. Mobius headphones let you enjoy music for up to 24 hours while taking an inspiring walk, doing creative work or working out.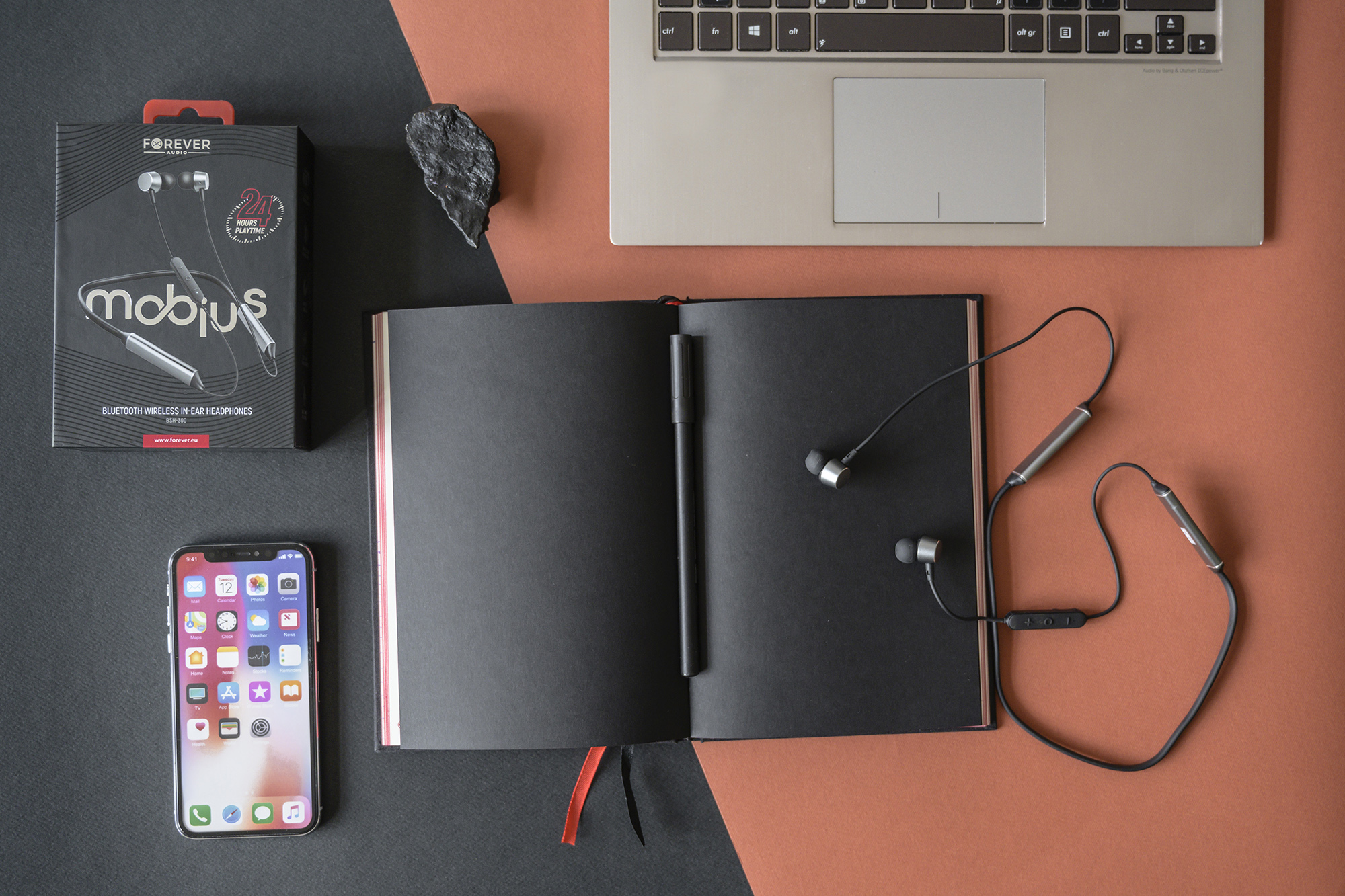 Sports earbuds for the gym: Forever 4Sport BSH-400
Forever 4Sport BSH-400 wireless earbuds allow you to free yourself from unnecessary cables and feel the freedom – even though they have a tiny cable that connects the two buds and allows you to hang them around your neck. With a 4-button remote and a microphone, you can always have your favourite music at your fingertips, and you are always ready to accept and reject phone calls. Your voice assistant is also available at the touch of a single button. The built-in battery allows you to listen to your favourite tunes for 4 hours, with 3.5 hours call time and up to 120 hours on standby. What is more, you can charge them to full in just 2 hours.
Forever 4Sport BSH-400 will let you enjoy your favourite music during inspiring walks, creative work or a workout. Take them everywhere you go.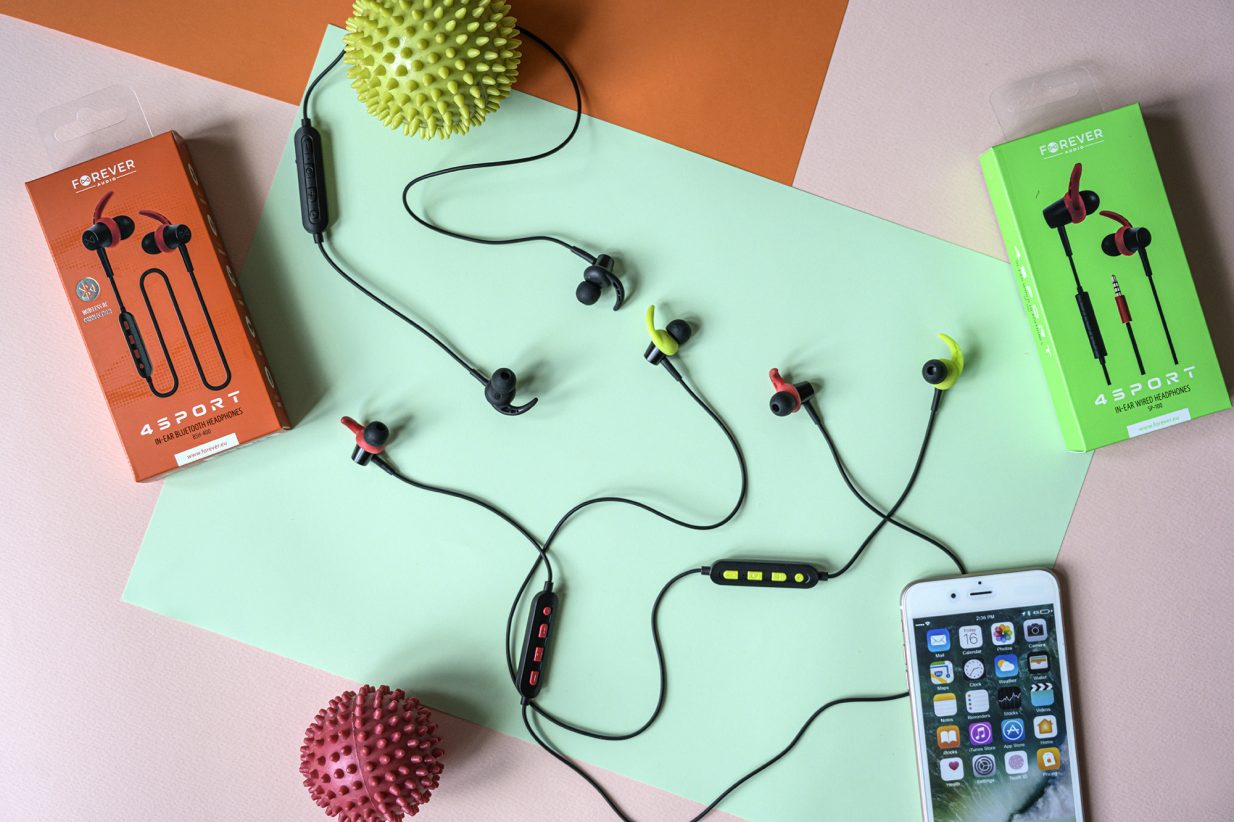 Wireless earbuds for runners: Forever 4Sport TWE-300
Forever 4Sport TWE-300 make for a great choice for active people who value freedom from cables, since they are truly wireless sports headphones designed with runners in mind. Their lightweight, minimalist design fits the shape of the ear just right, ensuring comfort during the most demanding workouts. Special inserts that go into your ear cups prevent the buds from falling out during a hard run.
The Forever 4Sport TWE-300 sports earbuds offer a range of up to 10 metres, so you can work out and move around the gym without having to take your smartphone everywhere you go. The built-in microphone allows you to answer and reject phone calls, you can also redial the last number you called. In the box, you will find three pairs of silicone tips in different sizes (S/M/L), a small charging case and a USB cable.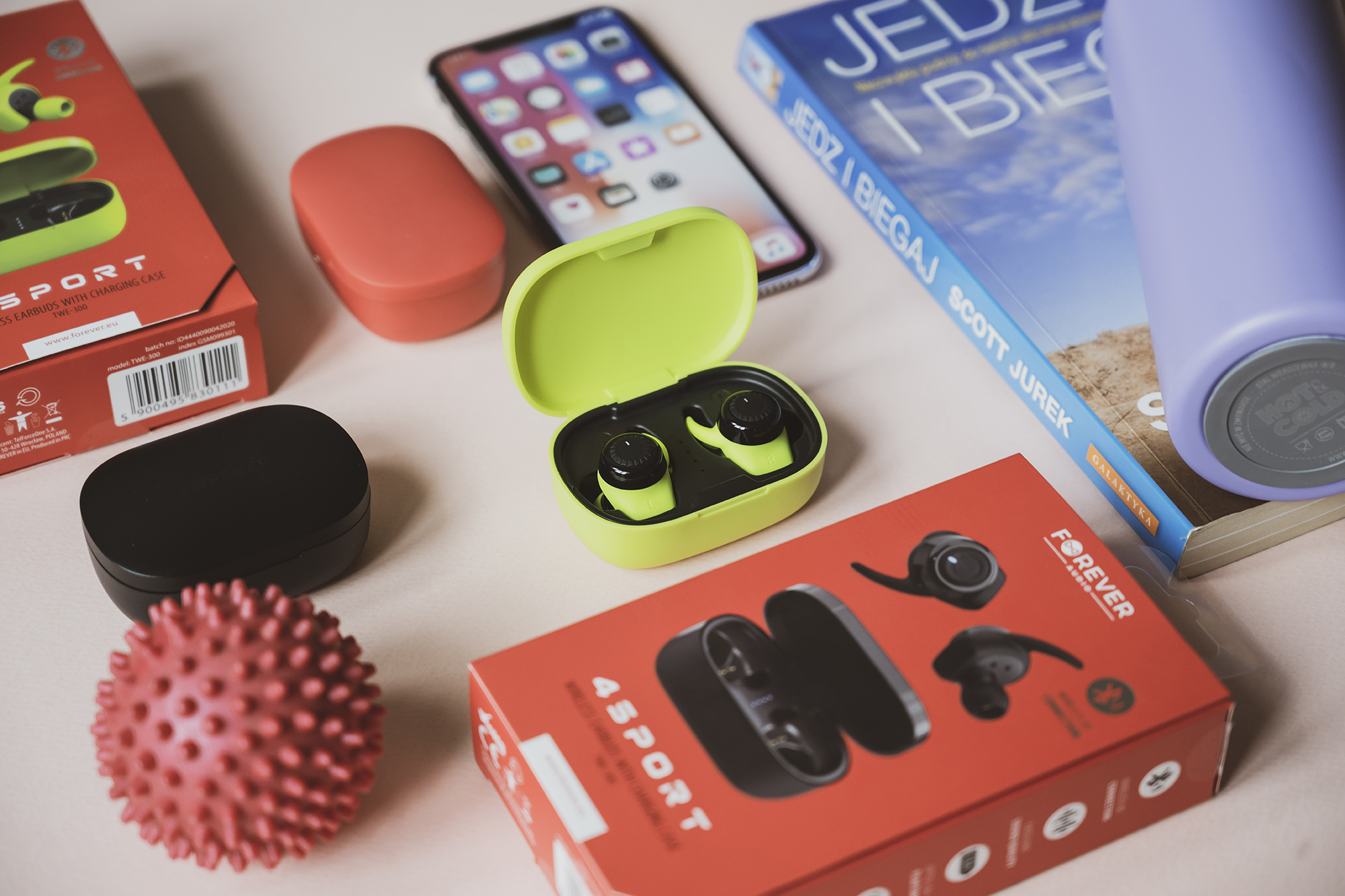 All products are available in selected RTV/AGD online stores and in the Teletorium chain throughout the country.
TelForceOne, owner of the Forever brand, is a part of the Polish TelForceOne S.A. Capital Group and one of the largest manufacturers and distributors of consumer electronics in Poland, as well as Central and Eastern Europe. The company's portfolio includes modern mobile solutions, consumer electronics and mobile phone accessories.