Smartphones remain a popular choice for a gift, regardless of the occasion. Some get them for Christmas, others for birthday. Some buy them themselves. Do you want to get even more fun and enjoyment from your brand-new gadget? It's easy – just choose the right accessories, like the new Forever Core series with added value that you won't find out of the box.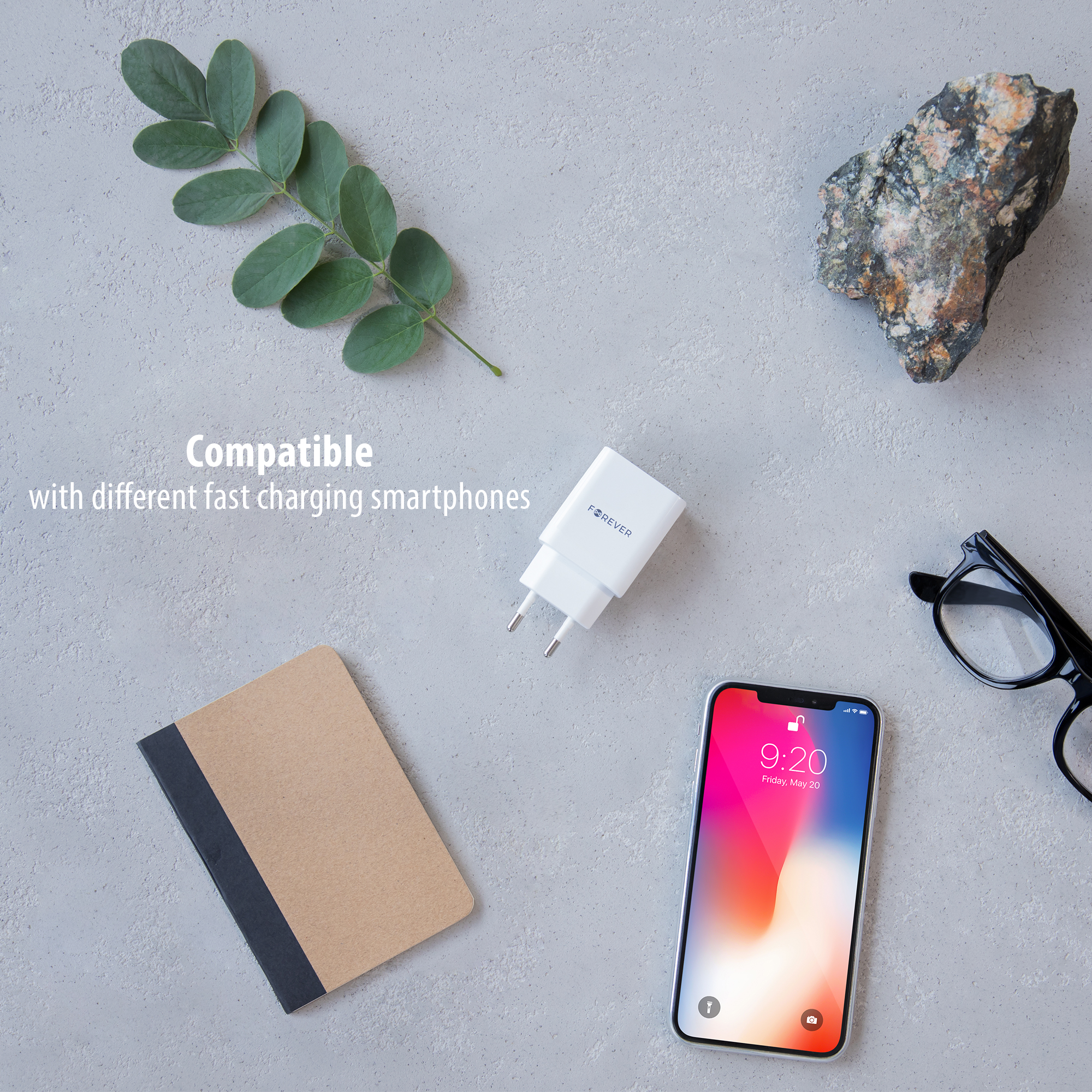 Nearly all brand-new smartphones are sold with standard chargers, which are rarely compatible with fast charging technology. Usually, they have only one plug, and the length of the supplied cable leaves a lot to be desired. What to do if that's the case? Easy – just get a better or additional charger.
How to choose a charger that will charge your smartphone as quickly as possible? There are different fast charging systems on the market, with different power outputs. That's why the first step for you should be to check the charging parameters, which are optimal for your device. Currently, the most popular fast charging technologies on the market include Quick Charge 3.0 and Power Delivery.
The Forever Ultra Fast Charger 20 W LED (USB + Type-C) has everything a modern smartphone needs. It's not only small, it's stylish and efficient, but it also offers smart charging that is compatible with all the most popular fast charging technologies such as Power Delivery 3.0 and Quick Charge 3.0. It comes with two ports – classic USB-A port and a modern USB-C one, allowing you to charge two devices at the same time. The maximum provided current is 3 A for a single device, and up to 4 A when two devices are plugged in. All this power fits in a tiny envelope with robust build quality and a small LED screen, which displays charging parameters. To further protect your device, it has overheating and short circuit protection.
The series Forever Core includes many more chargers with different plugs, features and prices.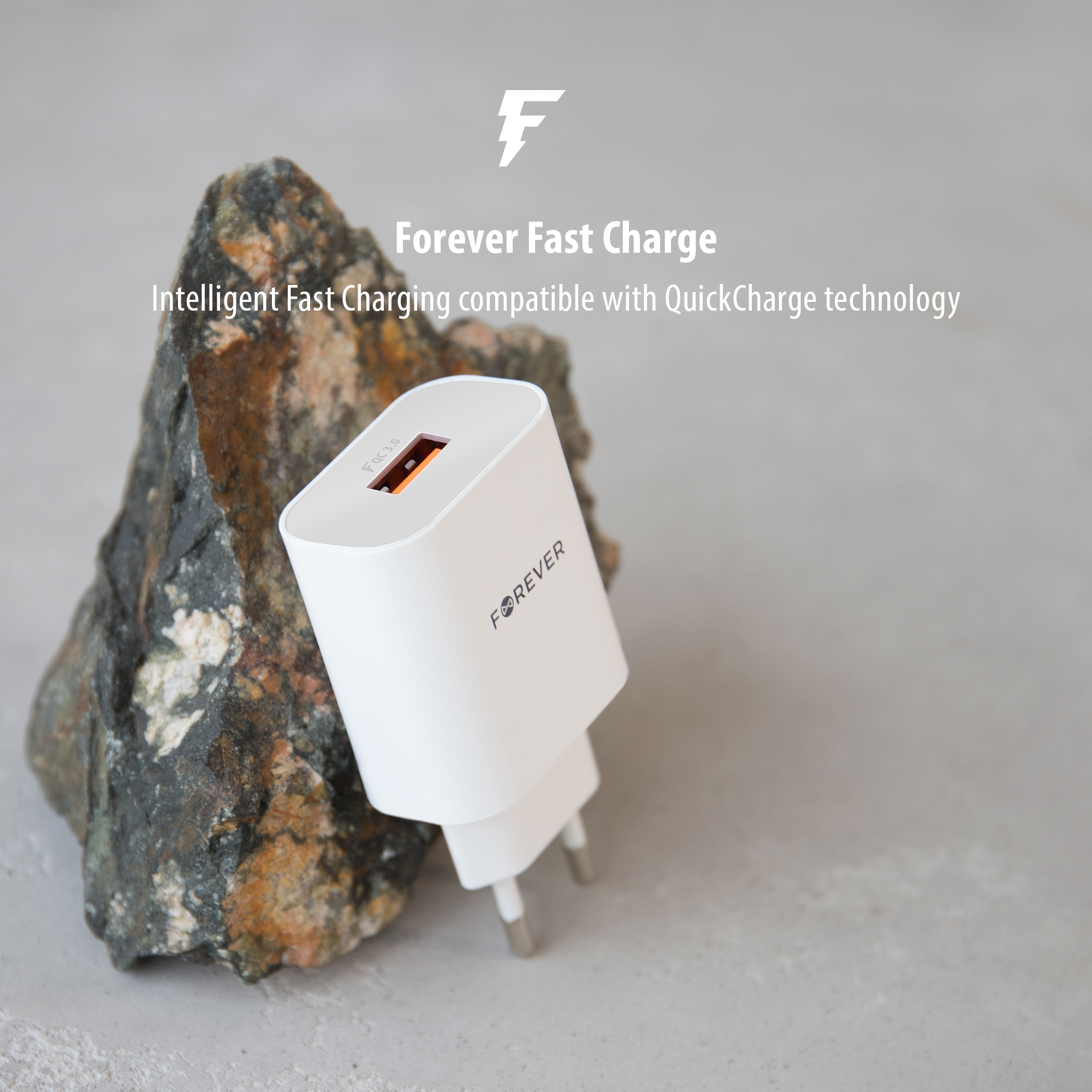 CABLE MATTERS – AND IT DOESN'T HAVE TO BE DULL
A good charger needs a robust cable that will not be a bottleneck and will not wear out after just a couple of months. What does it mean? Your smartphone might offer fast charging, and your charger may be able to deliver a lot of power, but all of this will be of no use if the cable does not have the right parameters. Maybe you're just tired of boring white or black cables? Do you love stylish gadgets? Perhaps it's time to invest in a cable that will check all the boxes and last you many years. Which USB cable should you get?
We would suggest a modern Forever Extreme Charge-Sync (type-C) cable, which can easily handle up to 3A of current and ensures quick data transfer. The black and yellow colour scheme and unconventional design will appeal to fans of fresh style. But that's not all that's unconventional about it – longer and reinforced connectors make the cable extremely durable and resistant to breaking, and thanks to a special material used by the manufacturer, it never gets tangled.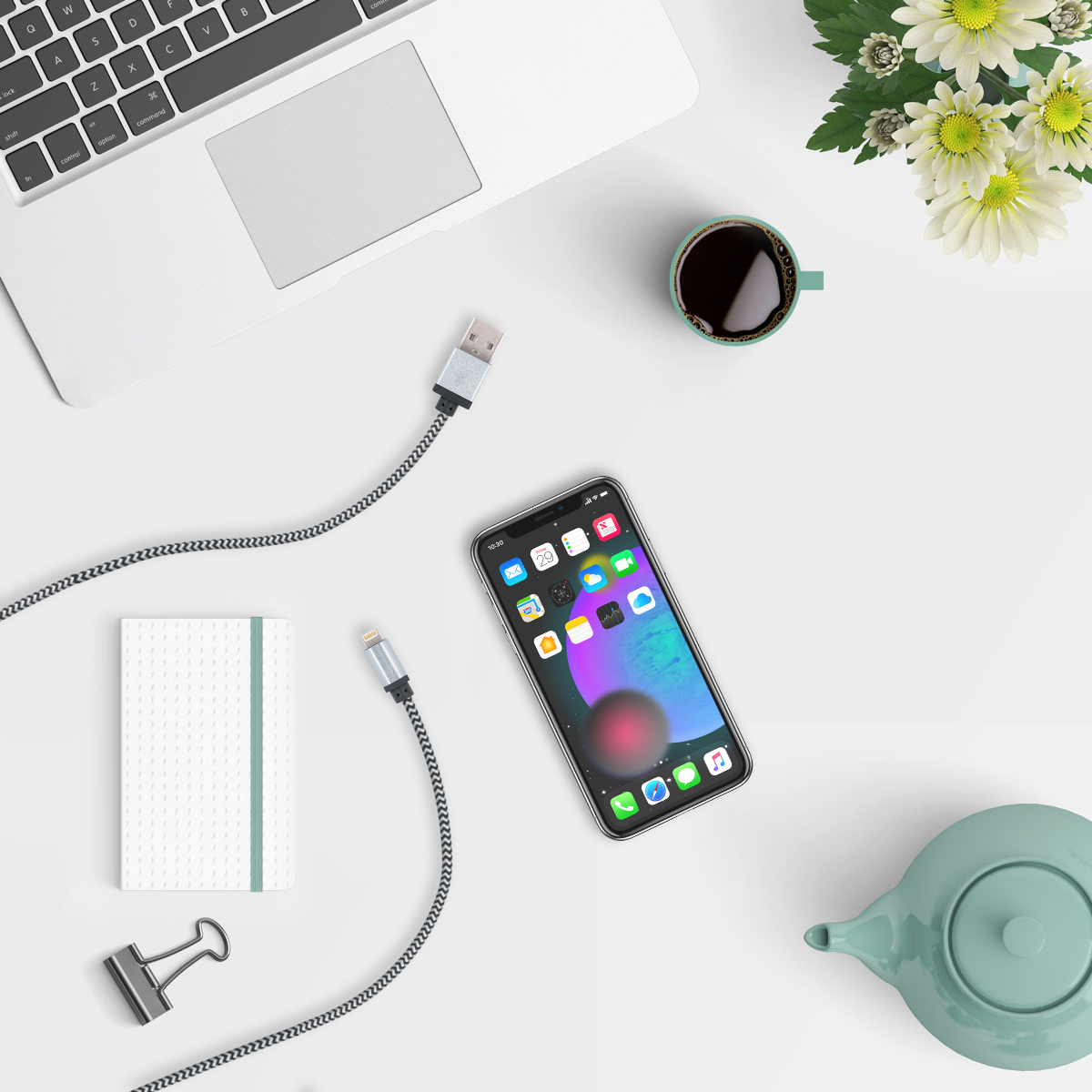 TIRED OF CABLES? THERE'S A SOLUTION!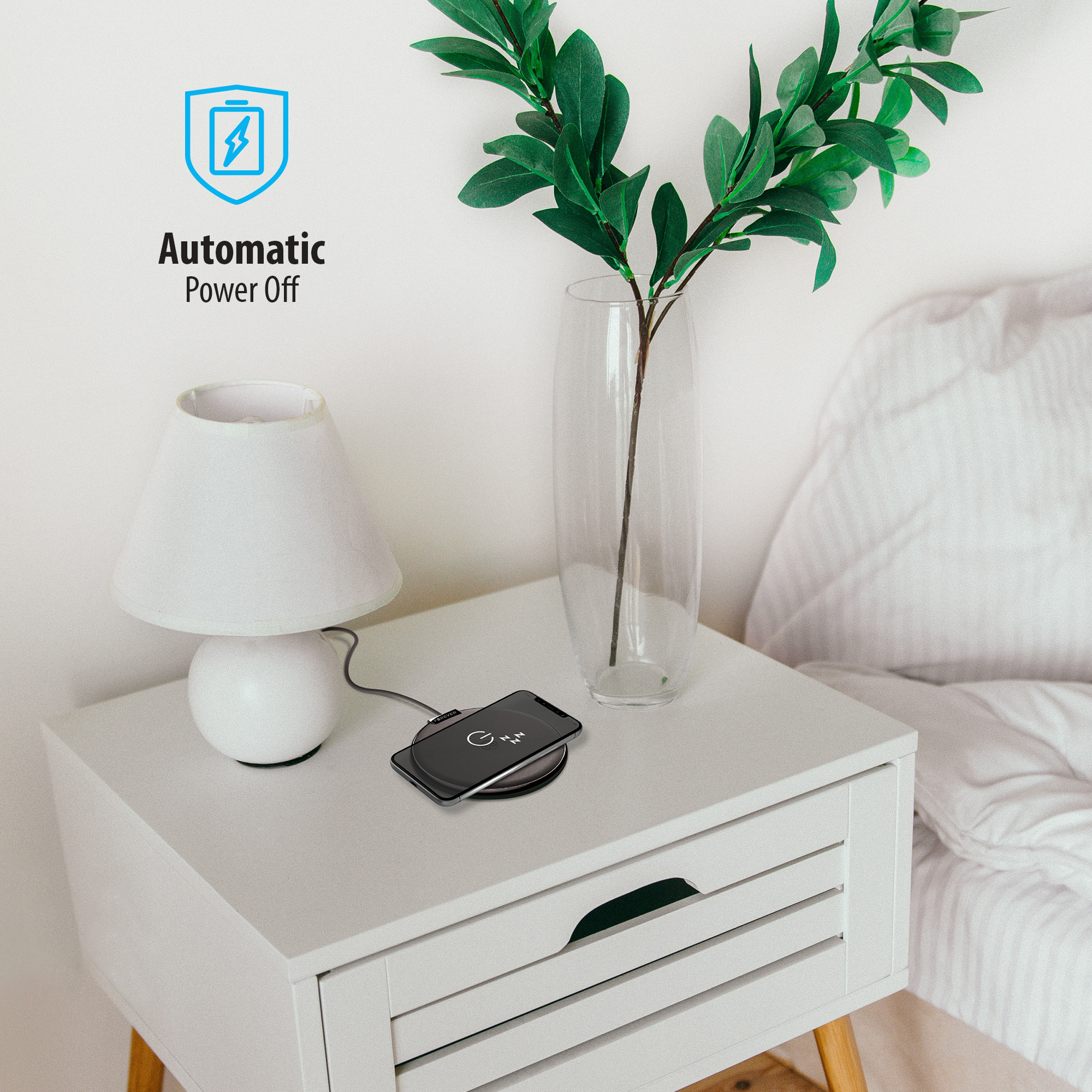 There are some people who are not convinced by even the best and most beautiful USB cables. We respect that – and we recommend bypassing the issue altogether with a wireless charger.
Wireless charging offers many advantages, and getting rid of cables is just one of them, albeit the most obvious of them all. While the charger itself still needs to be powered with a cable, the smartphone is no longer tethered to a wall wart, you can just put it down and watch it charge, and when you need to, you can just grab it and take it with you – for a long time or just for a moment. It doesn't get easier than that.
Besides, using a wireless charger protects the charging port on your smartphone and its internal for power conditioning components, which is hugely important, as these are just some of the most common weak points in modern phones. Wireless charging can save you a headache and high repair costs.
Which wireless charger should you go for? The Forever WDC-210 might be an interesting choice. Made of aluminium alloy, the charger has a sleek, round shape, and its surface has been covered in leather. The charger can deliver power of up to 10W, with output voltage of 5V (1A). The smart charging feature can detect objects placed on the charger, which prevents it from delivering power when metal objects and other things are nearby. What is more, it features overcharging, overheating and short circuit protection, and come with a 1.2-metre USB cable. Once connected, the charger signals the operating mode with a tiny coloured LED.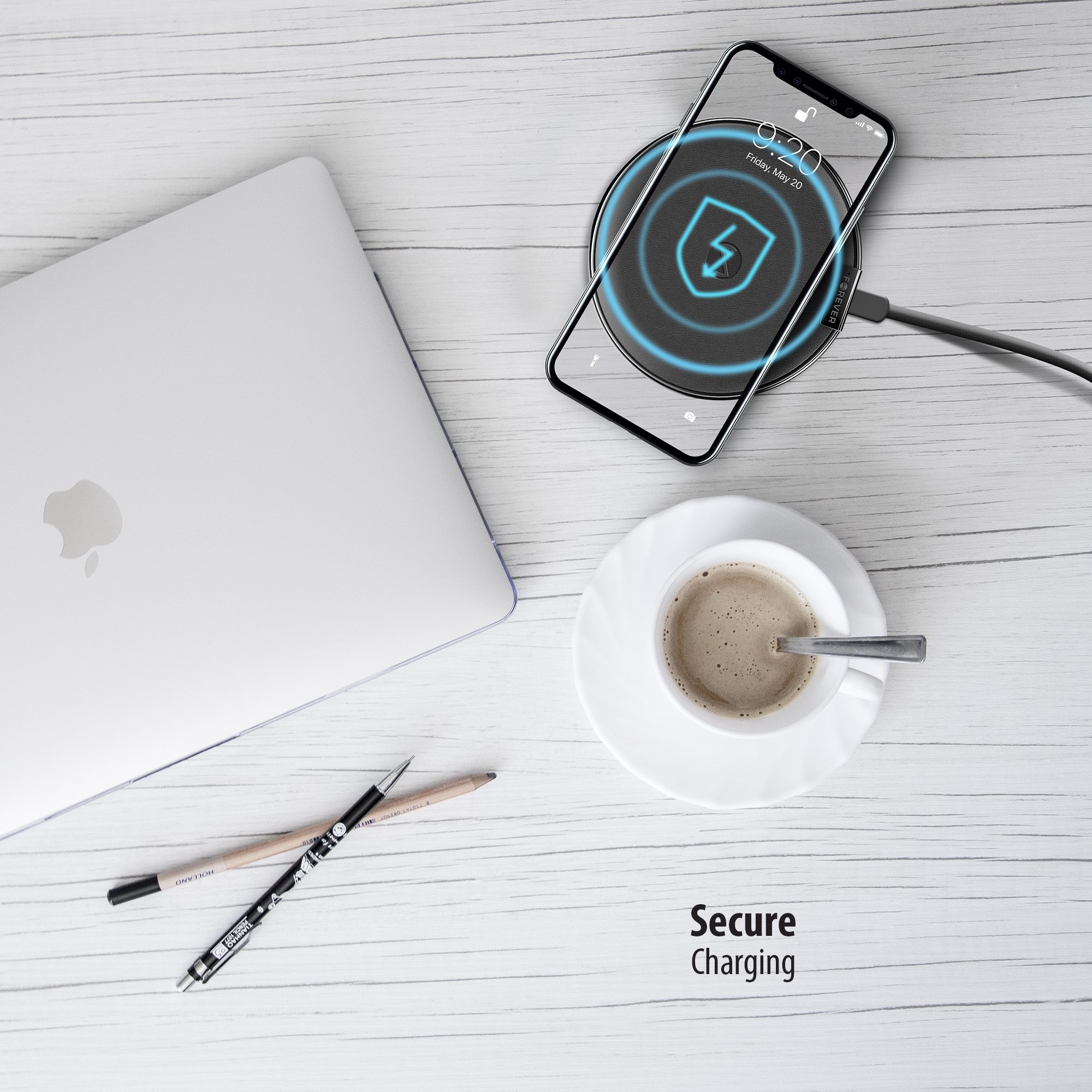 A powerful and fast power bank is something that every active smartphone or tablet user should have in their bag. Don't let your battery run flat during a trip – regardless of whether you are on a summer holiday or on your way to work or school. Just like standard chargers, a good power bank should be robust and fast, while offering enough capacity so you don't have to recharge it every time you need to use it.
If you are looking for a good one, check out Forever Travel Battery 10k & 20k, a high-quality and stylish power bank that you can take anywhere. Thanks to the ability to hide the cable inside the power bank, you will never lose it again. What is more, with the capacity of up to 20,000 mAh, you charge an average smartphone up to eight times.
This modern power bank can be used to charge up to four devices at once with its two USB outputs, a USB-C output and a built-in Lightning cable for your iPhone or iPad. On top of that, you can charge it using one of three inputs: Lightning, USB-C and micro USB – if you have a cable, you can charge it anywhere. What's more, in the box you will find both Lightning and USB-C connectors.
The metal case is scratch-resistant – it won't get dinged and damaged, and it will look like new for a long time. It also has one more convenient feature – an LCD screen on the case, which displays the charge of the internal battery.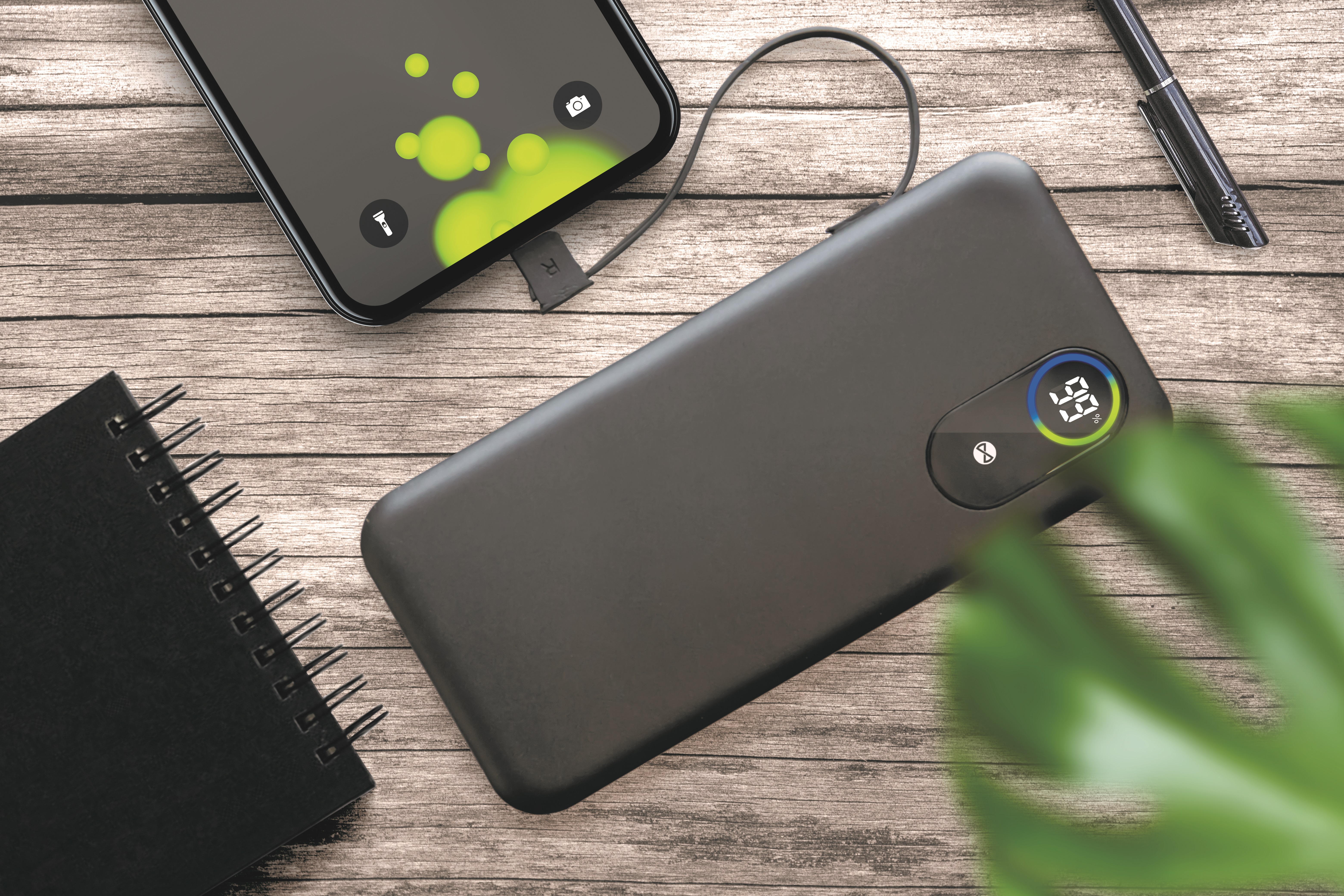 All products are available in selected RTV/AGD online stores and in the Teletorium chain throughout the country.
TelForceOne, owner of the Forever brand, is a part of the Polish TelForceOne S.A. Capital Group and one of the largest manufacturers and distributors of consumer electronics in Poland, as well as Central and Eastern Europe. The company's portfolio includes modern mobile solutions, consumer electronics and mobile phone accessories.